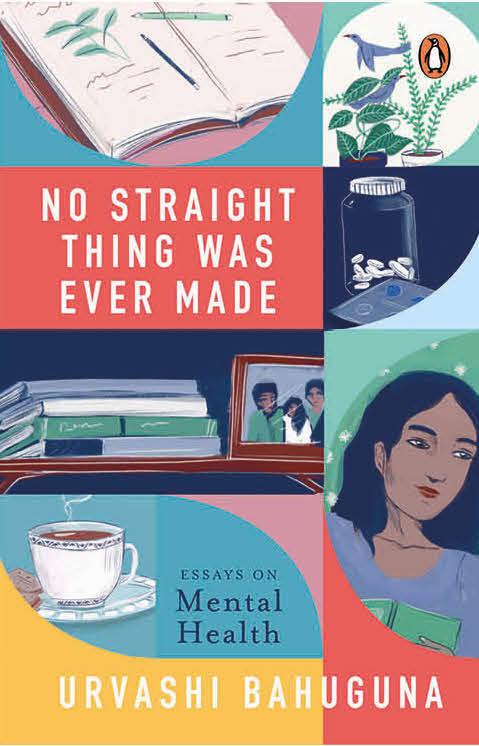 "Brave, lyrical essays, as much to do with coping as with the difficult task of repair. A book we may all want to keep beside us, whatever our relationship with the shadows." Tishani Doshi
"These are dispatches from the dark side, from that shadowy land called Depression, but oddly they are illuminating, powerful, empowering. Everyone should read this book because we are never very far from someone who is depressed, someone who is going through something like this." Jerry Pinto
"These essays will change your perception of illnesses and conditions that are so universal, and yet so rarely understood. This is a moving and powerful memoir, a landmark collection of essays and reflections from an exceptionally gifted writer who brings her questioning intelligence to bear on every challenge she faces." Nilanjana Roy
"The 10 essays in No Straight Thing Was Ever Made expand into an unexpectedness and generosity that is belied by the physical lightness of the volume." Pooja Pillai in The Indian Express
No Straight Thing Was Ever Made was published in 2021 by Penguin. Copies can be purchased at online retailers in India and the States.

"TERRARIUM is a richly layered and deeply felt poetry debut. I am impressed by the thoughtful artfulness of this original work, its gravitas, and its urgent subject matter – but mostly, I am moved by the tender joy and unabashed delight with which the speakers of these poems show me, as Bahuguna writes, "how to love this bruised and bumpy earth."" Tarfia Faizullah
"Bahuguna writes her very self into the earth – she gulps air like a pelican, is tightly-woven like a pinecone and her headaches are the size of Crete. Places, their precise and physical geography, are the engine of this collection. Bahuguna's voice, direct but subtle, is necessary for these times when the world seems irredeemable, when our fears are well-founded, and anxiety is really a sign of sanity." Sridala Swami
"TERRARIUM is a charming and powerful debut. Urvashi Bahuguna guides us through a world where "the only event is humidity," and yet the terrain and radiant heart of these poems prickle and shimmer with a vibrance hardly ever seen in a debut." Aimee Nezhukumatathil
"There is a sure-footed ease about this debut collection that bespeaks of years of careful preparation. From the very first poem, which lends the title to the volume, Bahuguna impresses with her unflinching presence." Somak Ghoshal in Livemint
Terrarium was selected for the Emerging Poet's Prize by Aimee Nezhukumatathil and published in 2019 by The (Great) Indian Poetry Collective. Copies can be purchased at The Bookshop, Jor Bagh in New Delhi and at Literati Bookstore in Goa as well as at online retailers. You can reach out to me at bahuguna(.)urvashi(@)gmail(.)com to purchase a copy.